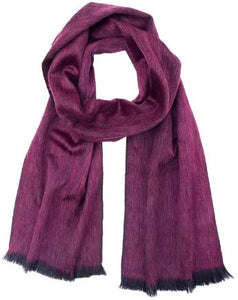 Rich an Elegant the perfect accessory with understated elegance and sophistication. Add this statement-making accessory to your daytime denim look, or layer it on as a stylish burst of color to your basic white or black suits or dresses.
Size: 11" x 78"
Material: 60% Alpaca / 40% Acrylic
Care Instructions:
Dryclean Option or

Machine wash, delicate/ Dryer on low to fluff fibers back up.
*Recommended:  Use a soft bristle brush (upholstery) to comb the fibers back in the direction of the weave and iron on low.