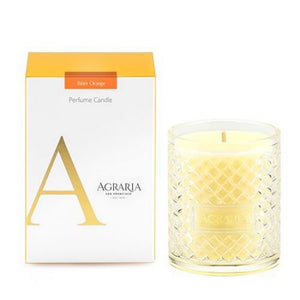 Agraria Bitter Orange Candle is based on Agraria's signature fragrance and is a complex and subtle blend that comes alive with addictive waves of Clove, the zest of Bitter Orange and just a touch of Cypress. 
The intricate pattern of the glass vessel accentuates the movement of the flame to create a luminous and mesmerizing glow.
Also, after the candle has burned completely, save the decorative glass to use as a vase, keep makeup brushes organized, hold paperclips on your desk.
7oz  5o Hour burn time.  3.5"H x 3"W