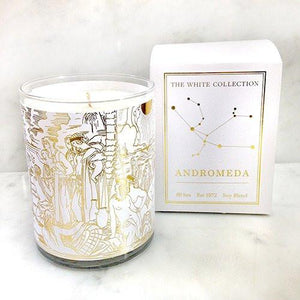 Derived from Ancient Greek Astrology, each candle corresponds to a constellation.
Andromeda, The Princess
Burn, and invoke Hydra's powers of Transformation, Awakening, Inspiration, and Creation.
Fragrance Notes: Bergamot Mist, White Hyacinth, Tiare, Water Lily, Guaiac Wood, and Salty Musk. 
Hand-poured, 60-hour, soy-blend candles crafted in Los Angeles by artists. Beautifully designed gold foil label on glass vessel, artfully designed box depicting  the constellation in gold foil.