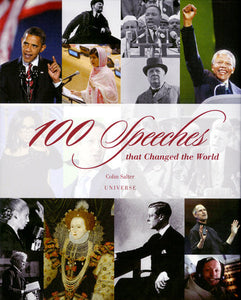 The history of the world as witnessed through the most inspiring, rousing, and memorable speeches ever given.
A celebration of the power of spoken rhetoric at its finest, this book profiles the words of the world's greatest public speakers. The speeches covered span the spectrum from stirring calls to arms to impassioned pleas for peace, along with speeches that marked major historical events such as the abolition of slavery, women achieving the right to vote, and the expansion of civil rights. Each speech features a concise introduction along with detailed analysis accompanied by key illustrations and photographs.

Highlighted speeches include: Elizabeth I's speech in preparation of the Spanish Armada (1588), Sojourner Truth's "Ain't I a Woman" (1851), Lincoln's Gettysburg Address (1863), Franklin D. Roosevelt, "Only thing we have to fear is fear itself" (1933), Winston Churchill, "Blood, Sweat and Tears" (1940), Martin Luther King, "I Have a Dream" (1963), Harvey Milk's "Hope Speech" (1978), Margaret Thatcher's "The Lady's not for Turning" (1980), Nelson Mandela on his release from prison (1990), among many more.