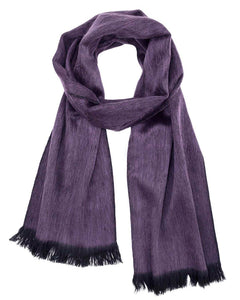 The rich, deep shade of purple will look amazing over denims during the day, or over a black suit or sweater dress for the evening. And no matter what your plans are, you'll stay comfortably warm. That's alpaca doing its fabulous job.
Size: 11" x 78"
Material: 60% Alpaca / 40% Acrylic
Care Instructions:
Dryclean Option or

Machine wash, delicate/ Dryer on low to fluff fibers back up.
*Recommended:  Use a soft bristle brush (upholstery) to comb the fibers back in the direction of the weave and iron on low.