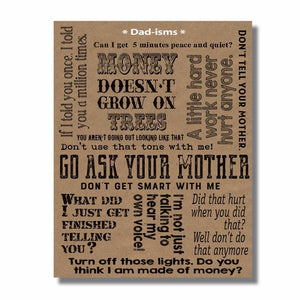 You were a kid. You know your dad said some of these, and if you are a dad, you probably did too. We assembled some of Dad's best wisdom and sayings on one card. For Father's day or just to tell dad you are thinking of him.

And we all know that Money Doesn't Grow on Trees, or that A little hard work never hurt anyone.

Inside: "Dads rule."
This card is 4.25"x5.5" and comes in a plastic sleeve with envelope. 
Designed and printed in the USA!