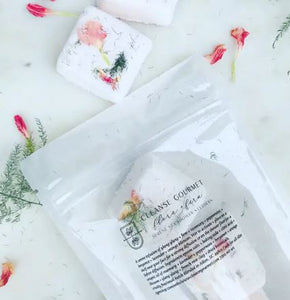 Aromatherapy Diffusion in your shower.
A serene infusion of organic essential oils ylang ylang + fern + rosemary + peppermint + bergamot + lavender + orange blossom. light blush color topped with dried light pink flowers + fern dyed with french rose clay
Wet to activate + place on a shelf in the shower near your face for a strong diffusion or place on the shower floor for a lighter diffusion.
vegan/cruelty free/no synthetic fragrances or dyes
comes with 5 steamers in a rice paper pouch 7.5 oz