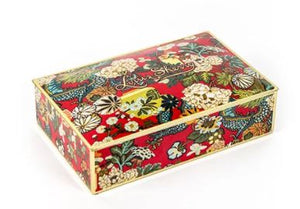 We like to say Louis Sherry is a gift (chocolates) in a gift- a beautiful collectible box. 
 For over 130 years, Schumacher has been synonymous with style, taste and innovation. And the Chiang Mai Dragon pattern, inspired by an Art Deco print, is one of the family-owned design house's best-loved designs. The chinoiserie motif is available at fschumacher.com as both fabric and wallpaper.

 "In 1881, Louis Sherry introduced the French chocolate-making tradition to New York and quickly established a reputation for excellence. Sherry's dedication to quality is present today in every truffle we craft. Only the highest quality ingredients, ethically sourced from Ecuador to Madagascar to the Caribbean coast of Venezuela, are used by our master chocolatier. In celebration of our heritage, each array of chocolates is packaged in the traditional Sherry's tin, a recast of the original, now more than 100 years old.
"When it's a matter of good taste--Sherry's." Such was our founder's promise 130 years ago. We strive to live up to it today."