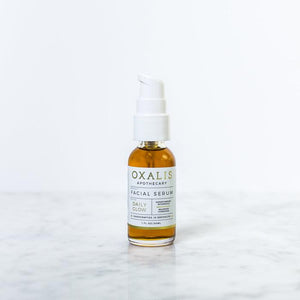 ALL NATURAL FACE SERUM
SUPERCHARGED BOTANICALS + BALANCED HYDRATION
Wonderfully balanced, non-comedogenic, gorgeously aromatic and packed with supercharged botanicals for healthy, radiant skin. Comprised of 100% cold pressed and unrefined oils, each carefully selected for their regenerative and therapeutic benefits. This facial serum is a delicate balance of base oils containing both linoleic and oleic acids, powerful botanical extracts and premium essential oils. Suitable for all skin types. 
+ Golden Jojoba Seed Oil : Lightweight, fast absorbing and mimics skin's natural texture (sebum). Antibacterial and anti-inflammatory, perfect for treating congested skin and smoothing uneven skin tones.
+ Virgin Argan Oil : Rich in antioxidants, omega-6 fatty acids and Vitamin E, which combat wrinkles, acne, and maintain healthy moisture in skin.
+ Rosehip Seed Oil : Extremely high in essential fatty acids and Vitamins A (nature's retinol) and C. Helps to replenish dry skin and reduce discoloration from scarring.

+ Hemp Seed Oil : High in linoleic acid, omega-3 and omega-6 fatty acids as well as a plethora of proteins and minerals. With natural anti-inflammatory properties, it is ideal for treating troubled skin.

+ Pomegranate Seed CO2 extract : Powerful antioxidant that improves skin elasticity and protects against sun damage and premature aging.
FACIAL SERUM INSTRUCTIONS
After cleansing, apply 1-3 pumps to palm and gently press oil into face and neck. Allow serum to absorb before applying makeup. Can be used morning and night. Store in cool, dark place to retain nutritive properties.
*Pro tip : Use our Rose + Neroli Toning Mist prior to applying serum for added hydration + botanical benefits.
ORGANIC SKINCARE INGREDIENTS
Golden Jojoba Seed Oil, Virgin Argan Oil*, Rosehip Oil, Hemp Seed Oil*, Pomegranate Seed CO2 extract*, Vitamin E (Non-GMO), Rosemary Leaf extract + essential oils of Geranium*, Palmarosa*, Carrot Seed*, Sandalwood^, and Frankincense*
*Certified Organic, ^Wild Harvested
1 fl oz/30ml clear glass bottle with treatment pump