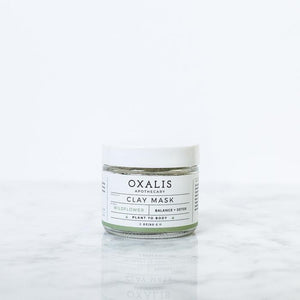 ALL NATURAL CLAY MASK
BALANCE + DETOX
French Green Clay, also known as Sea Clay, is a powerful, naturally mined clay with high absorbency and detoxifying features. Natural minerals tone and replenish cells for clearer, fresher skin. Lavender flowers and essential oils of Roman Chamomile and Lavender help to calm and regenerate. Perfect for normal, oily or troubled skin. Can also be used with our Geranium Clay Mask to target specific areas for combination skin.
BEST CLAY MASK FOR OILY SKIN
+ All natural ingredients
+ Effective minerals and herbal oils
+ Vegan and cruelty free
FACE MASK INSTRUCTIONS
In a small dish, mix a spoonful of clay (1 tbsp recommended) and a small amount of water. Add more water or clay as needed to create desired paste consistency. In place of water, try raw honey, yogurt, flower hydrosol, or aloe to create a unique mask suited to your needs. Gently massage into face and neck, avoiding contact with eyes. Let dry and rinse with warm water. Moisturize.
ORGANIC SKINCARE INGREDIENTS
French Green Clay, Lavender Flowers + essential oils of Roman Chamomile and Lavender*
* Certified Organic
Size : 2oz / 60ml reusable glass jar
*Please use caution as clays may stain fabrics. Lavender flowers may appear on skin. Slight tingling upon application is normal.