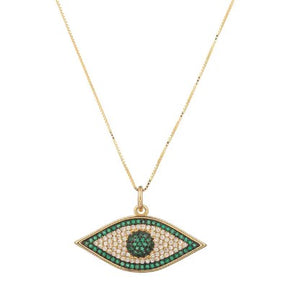 Coated with colorful zirconia crystals, this eye pendant sits on a gleaming sterling silver gold chain. The pairing of this gold chain with this exquisite eye pendant gives this pendant necklace a classic elegance.
The evil eye is a positive force. They are also designed to protect the wearer from evil and ward off the evil that has been directed at them. Wearing any piece of jewelry with the evil eye symbol on it provides the wearer with both power and protection against evil spirits or bad luck.

Belief in the evil eye dates back almost 3000 years to ancient Greece and Rome. Wearing an evil eye as an amulet is believed to provide protection against evil forces. The evil eye has symbolism in almost every country in the world and in any religion such as Judaism, Hindu, Islam, Buddhism and Christianity.