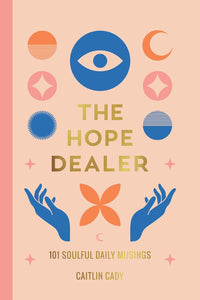 Get a hit of soulful inspiration every day from meditation teacher and author Caitlin Cady.
The Hope Dealer

 
is a treasure trove of soulful straight-talk designed to light you up from the inside out.

Delivered with author Caitlin Cady's signature wit, warmth, and wisdom, each of the 101 messages will up the ante on your day by helping you tune in to your highest self and plug in to your full potential. Use this book for a daily dose of guidance and inspiration.

Choose a page by chance or close your eyes, reflect on a question or situation you'd like to shed a little light on and let your fingertips lead you to today's message. Set fire to limiting beliefs, reframe resistance, say sayonara to self-doubt and peace-out perfectionism while building self-trust, integrity, resilience, courage, compassion, and confidence."