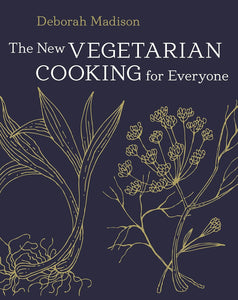 A revised edition of the landmark, award-winning cookbook from America's leading authority on vegetarian cooking features over 200 new recipes and a new introduction by the author.
What Julia Child is to French cooking, Deborah Madison is to vegetarian cooking--a demystifier and definitive guide to the subject. After her many years as a teacher and writer, she realized that there was no comprehensive primer for vegetarian cooking, no single book that taught vegetarians basic cooking techniques, how to combine ingredients, and how to present vegetarian dishes with style. Originally published in 1997,
Vegetarian Cooking for Everyone
was both ahead of its time and an instant classic, and has endured as one of the world's most popular vegetarian cookbooks. Featuring over 1,600 recipes suitable for vegetarians, vegans, and everyone who loves fresh produce and good food,
Vegetarian Cooking for Everyone
is as full of practical information as it is inspiring, a treasure from a truly irreplaceable culinary voice.